There are different models for catalyzing and scaling up biofortified food systems—some more market-based than others. However, all models need to be well-anchored in seed, crop, and food value chains to become truly self-sustaining. Biofortified products need to make business sense to farmers, seed suppliers, food producers, and consumers.
Contact our markets team
---
HarvestPlus teams provide technical, logistical, and strategic support to hundreds of business partners of all sizes in biofortified seed and crop value chains. This is all done with smallholder farmers top of mind—to ensure they can readily access and afford biofortified seeds and inputs, and are connected to post-harvest markets where they can sell surplus to support their livelihoods.
Market development also helps reach consumers with naturally nutritious foods.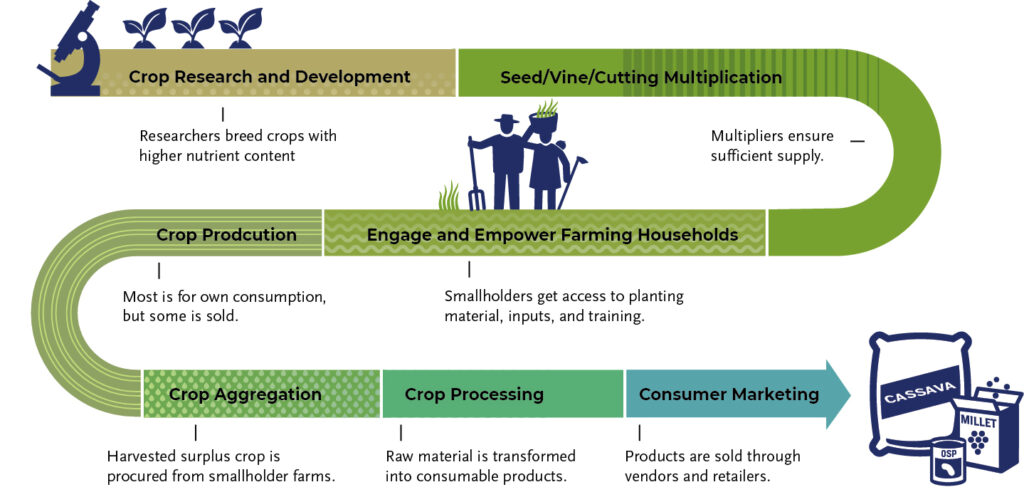 Spotlight on Value Chain Partners
Partnering with HarvestPlus has been quite a wonderful journey for us." – Tunji Kalejaiye of Nigeria's Graceco, which makes breakfast porridge made with vitamin A maize.
---
Enabling Commercialization
Staple crop biofortification began in earnest less than two decades ago, but there is already strong interest globally in expanding the reach of nutritious biofortified products to millions more consumers. Work is underway to strengthen markets for biofortitfied products and incentivize value chain actors to rapidly scale up commercial activity. HarvestPlus is leading several initiatives to address market challenges and catalyze new opportunities:
Buyers in all markets want to be able to verify the quality of the products they purchase, and it is no different for buyers of biofortified products.
As part of the Commercialisation of Biofortified Crops Programme, HarvestPlus has worked with the British Standards Institution to develop "publicly available standards " (PAS) for zinc-, iron-, and vitamin A-biofortified grains. Vendors worldwide can use these standards to show best practice and compliance, instilling confidence among customers that they are purchasing high-quality biofortified products.
The PAS are available free of charge through the BSI website (account registration required):
PAS for zinc-enriched grains
PAS for iron-enriched grains
PAS for vitamin A-enriched brains (coming soon)
Certification and Product Tracing
Parallel to agreed standards, HarvestPlus is also developing a process to certify that products are made with high-quality biofortified ingredients, and a certification stamp to include on product packaging.
See the results of a survey of businesses on a certification process and stamp.
We work with partners to leverage mobile and digital platforms to better engage farmers and facilitate trade in seed, crop, and food value chains.
Work is also under way on the use of blockchain and other methods to improve tracing biofortified products through value chains.
Reaching 100,000 Pakistani Farmers Remotely Through a Unique Partnership
With partner Precision Development (PxD, formerly Precision Agriculture for Development), we piloted a mobile outreach system reaching 100,000 farmers to interest them in growing zinc wheat. The project used a combination of informational SMS messages and a voice-activated info line.
learn more
Engaging the Food Industry
HarvestPlus is assisting food manufacturers of all sizes and types to integrate biofortified ingredients in their supply chains, providing a "pull" effect for supply of biofortified crops by farming households. These white papers provide guidance for effective and efficient approaches to achieving this integration.