Iron-biofortified pearl millet is grown by a quarter of a million farmers in India, and now this nutritious crop is expanding in Africa's Sahel region—with the potential to provide a convenient and cheap source of iron for people there.
Pearl millet is eaten daily by more than 50 million people in the semi-arid regions of India and by millions of people in the Sahel region of Africa. With support from HarvestPlus, scientists at the International Crops Research Institute for the Semi-Arid Tropics (ICRISAT) have used conventional plant breeding techniques to develop biofortified varieties of pearl millet combining high iron content with high yield.
Iron pearl millet (IPM) varieties are aimed at providing more dietary iron to rural farming communities in arid and drought-prone regions where few other crops thrive. Lack of iron can impair cognitive and physical development; it most severely impacts women, children and infants. This is because these at-risk groups have greater micronutrient needs during rapid growth and development (i.e., early childhood, adolescents and during pregnancy) and because of blood loss due to menstruation. In severe cases, anemia can develop which increases risks to both the women and their children during pregnancy and childbirth; anemia can cause low birth weight and premature birth, as well as maternal and perinatal death.
IPM varieties also have a high zinc content, which helps address health problems linked to zinc deficiency such as stunting, loss of appetite, low immunity, and increased risk of diarrheal diseases and respiratory infections.
According to the HarvestPlus Biofortification Priority Index (BPI), the Sahel countries are among the top-ranked countries where investments in IPM can have the most health impact. Anemia is at high levels in Africa: 67.6 percent of pre-school age children and more than 47 percent of non-pregnant women in Africa are anemic.
Pearl millet is already an important staple food in drier regions of sub-Saharan Africa, especially in Nigeria, Niger, Senegal, Mali, and Burkina Faso. Its tolerance to drought, heat, and soil salinity, and its high water-use efficiency make pearl millet a climate-smart crop. In addition, it has high protein and mineral content, and high dietary fiber.
The "chakti" variety of IPM was released for commercial cultivation in Niger in 2018, in partnership with the Niger National Institute of Agricultural Research (INRAN). As per the Economic Community of West African States (ECOWAS) seed harmonization law, which facilitates farmer access to high-quality seed varieties, this variety can also be used for cultivation in any of the ECOWAS member states, which include the Sahel countries of Niger, Senegal and, Mali.
As a cheap dietary source of iron and zinc in the region, IPM has the potential to improve nutrition for millions of farming households, and most significantly, it has the potential to enhance the physical and mental performance of adolescents.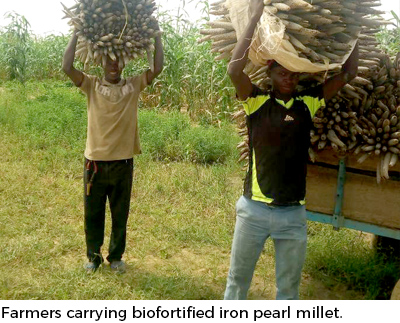 Following Niger, chakti was introduced for commercial cultivation in Senegal in partnership with the Institut Sénégalais de Recherches Agricoles (IRSA). The level of poverty in the region means many people have trouble affording diverse and nutritious diets; as of 2011, about 38 percent of Senegal's population was living on $1.90 or less per day. Almost 57 percent of Senegalese women of reproductive age suffer from anemia, as do 79 percent of children 6-59 months. This is why biofortified iron pearl millet can be an invaluable intervention to enhance nutrition through an existing staple.
The IPM seeds are supplied by IRSA to various stakeholders who are interested in helping farmers grow this super crop. For instance, under the Feed the Future Senegal Kawolor project, funded by USAID, communities are empowered to sustainably increase consumption of nutritious and safe diets, and increase on-farm availability and market supply of diverse, micronutrient rich foods (such as IPM), in 3,500 villages across 129 communes in 8 regions of Senegal. The program reaches 150,000 households that comprise 1.5 million people over five years.
In addition, under funding from the United States Department of Agriculture (USDA) to local companies in Senegal for school feeding programs, IPM is provided—alongside cowpeas and vitamin A orange sweet potato—to improve the nutritional status of children. The biofortified iron pearl millet is procured from millet business hubs.
"We are working closely with ICRISAT and public and private national partners to scale up biofortified iron pearl millet in ECOWAS countries," said Wolfgang Pfeiffer, Director of Research and Development at HarvestPlus. "This will expand access to micronutrient-dense food for millions of farming households in sub-Saharan Africa, and increase both nutrition and food security."
In partnership with the Savanna Agricultural Research Institute (SARI) in Ghana, Institut de l'Environnement et de Recherches Agricoles (INERA) in Burkina Faso, Institut d'Economie Rurale (IER) in Mali, and Usmanu Danfodiyo University of Sokoto (UDUS) in Nigeria, IPM has already been tested in these countries by ICRISAT.
HarvestPlus advances access to nourishing food for millions of people across the globe, particularly those most vulnerable to micronutrient deficiency, or "hidden hunger." HarvestPlus-faciitated crops were benefiting more than 40 million members of smallholder farming households by the end of 2019, which means that tens of millions of people today, many having suffered from the effects of "hidden hunger," are eating more nutritious foods—vitamin A cassava, vitamin A maize, vitamin A orange sweet potato, iron beans, iron pearl millet, zinc rice, and zinc wheat—and improving their health.
The importance of including IPM in the diets of Africans cannot be overstated. Its availability in the Sahel region, facilitated by HarvestPlus and our partners, will contribute to alleviating some of the disease burden resulting from hidden hunger.
For more information, please contact Donald Mavindidze, Regional Director Harvestplus Africa ([email protected])