Andrew Natsios, director of the Scowcroft Institute of International Affairs and executive professor at the Bush School of Government and Public Service at Texas A&M University, will succeed Peter McPherson as chair of the HarvestPlus governing body in January 2019.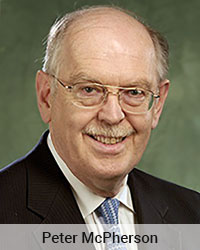 McPherson, president of the Association of Public and Land-Grant Universities, is retiring from the HarvestPlus Program Advisory Committee (PAC) after 15 years of distinguished service that began at the program's inception. A former administrator of the United States Agency for International Development, Deputy Secretary of the U.S. Treasury and president of Michigan State University, McPherson has significant expertise in international development and managing complex organizations.
HarvestPlus develops and scales up the delivery of biofortified nutritious crops around the world so that every child, woman, and man who needs them can have access. "Peter's leadership has been absolutely fundamental to our success. He carved out a working environment in which the concept and implementation of biofortification could be discussed and managed freely and independently," says Dr. Howdy Bouis, founder and interim chief executive officer of HarvestPlus. "Peter has been a wonderful mentor to me in so many strategic and management decisions. I have greatly valued his sound counsel."
"It has been an honor to chair the PAC, with its critical mission and dedicated people, particularly Howdy Bouis, a true nutrition pioneer," McPherson said. "HarvestPlus is making a difference to millions of people and its impact will grow dramatically in the years ahead."
Natsios, also a former USAID administrator, is a leading expert in international development, disaster relief, and famine. During his career at USAID, Natsios managed reconstruction programs in Afghanistan, Iraq, and Sudan, then served as U.S. special envoy to Sudan. A lifelong public servant, his earlier positions include service with the U.S. Army Reserves and Massachusetts House of Representatives, and as vice president of the faith-based nongovernmental organization World Vision U.S. He is the author of U.S. Foreign Policy and the Four Horsemen of the Apocalypse; The Great North Korean Famine; and his latest book, Sudan, South Sudan and Darfur: What Everyone Needs to Know.
Natsios is no stranger to HarvestPlus, having chaired its fundraising committee from 2009–2012. "While there are many promising development programs around the world today, HarvestPlus is the boldest, most innovative with greatest sustainable impact," says Natsios. "I look forward to chairing the PAC and being part of this remarkable undertaking."