As the COVID-19 pandemic and efforts to contain it impact economies and societies around the world, food systems are being disrupted. Food security is fragile under normal circumstances for smallholder farming families and other vulnerable populations in low- and middle-income countries. As noted in an impact analysis from International Food Policy Research Institute (IFPRI) , projections for increased poverty levels and food insecurity are dire as a result of the pandemic.
There is a need for swift, informed action to support these vulnerable communities. HarvestPlus country teams—many of whom are on home-based lockdowns themselves— are adopting innovative and creative methods of continuing to serve, reach, and support our millions of smallholder farming beneficiaries and field partners.
From Latin America to Africa to Asia, HarvestPlus staff are striving to reach beneficiaries in the safest and best possible ways, to help them continue to grow nourishing biofortified foods for their families and sell surplus to maintain their livelihoods.
Colombia: Seeds by Mail
In Colombia, the government has exempted the agricultural sector from social distancing measures to ensure food supplies continue, but HarvestPlus Colombia had to take a new approach to delivering seeds to farmers as the planting season commenced. Normally, the Colombia team would send biofortified seeds to public sector partners in various municipalities, then the HarvestPlus team would arrange and attend in-person farmer training sessions where seeds are distributed to attending farmers.
As it is currently not possible to travel or organize collective trainings, the team in Colombia, together with 15 partners through the country, established seed deliveries to farmers through traditional mail operators. Local partners visited the farmers to make sure the seed had arrived. At that point, the partners organized virtual trainings.
With these adjustments in place, the HarvestPlus Colombia team has been able to continue seed supply and support to over 1,550 smallholder farming households. Equally important, the farmers will not miss planting biofortified seed in the current season, which will strengthen their food and nutrition security in these difficult times.
Also, to help address rising nutritional insecurity in the country, HarvestPlus donated about 500 kilograms of biofortified iron beans to the Mayor's Office of the city of Cali to feed 500 families during the pandemic. This type of bean, known as BIO-102, contains higher levels of iron and zinc than commercial beans, and they were delivered by the Mayor to communal kitchens.
In another inspiring move, the farmers of Leticia, a vulnerable community near Cartagena, Colombia, donated their precious zinc-biofortified rice production to the people of Cartagena—one of the locations in the country most affected by the current pandemic. They donated about 250 kg rice to the Municipal Unit of Agricultural Technical Assistance (UMATA) so the Mayor of Cartagena can distribute it amongst the people.
Nicaragua: Seed donations to farmers
HarvestPlus donated 409 kg of biofortified bean seed to be distributed by Self-Help International, to 60 smallholder farmers of a cooperative in Moyogalpa and Altagracia, Nicaragua. Under normal circumstances, staff would deliver the seed directly to NGOs and farmer associations for cultivation. Because of the COVID-19 lockdown, HarvestPlus teamed up with Self-Help International who have direct access to the farmers in remote areas and will distribute the seed to them efficiently. This will allow production of beans for consumption and a small percentage will be given by the farmers to their respective cooperatives for sharing with more farmers to expand the reach of iron bean production.
Frijol Nutritivo y Rendidor, Frijol Biofortificado, and INTA BioApante are the brand names of the varieties that are being distributed across Nicaragua. These beans can provide nourishing micronutrients like iron and zinc; scientific research has shown that the amounts of these micronutrients found in healthy, diversified diets have a beneficial effect on the immune system's ability to counter several but not all types of viruses. For example, in the case of zinc, in a recent review of this mineral's role in antiviral immunity, Scott A. Read and co-authors note that "an abundance of evidence has accumulated over the last 50 years to demonstrate the antiviral activity of zinc against a variety of viruses, and via numerous mechanisms."
Uganda: Using Key Contacts
In Uganda, HarvestPlus is identifying commercial farmer contacts that are well known and trusted by other farmers in a given target community. A predetermined amount of iron bean seed is delivered to the designated commercial farmer; his contact details and location are shared with other farmers who are interested in buying iron bean seed, and can purchase from the designated farmer supplier.
In some cases, the Uganda team had already delivered iron bean seed to implementing partners in various regions for them to distribute to beneficiaries. However, the partners were not able to deliver the seed due to the lockdown. So, the HarvestPlus team came up with the idea of delivering iron bean seed to churches and schools that have spaces available for gatherings. Various small groups of farmers come to the gathering place for training and to pick up seed. The farmers need to stay at least 2 meters from each other and a local council chairperson supervises this process to ensure this happens. It takes more time to reach all the farmers as they come gradually in small groups, but everyone eventually receives their seeds.
Zambia: Helping the Processors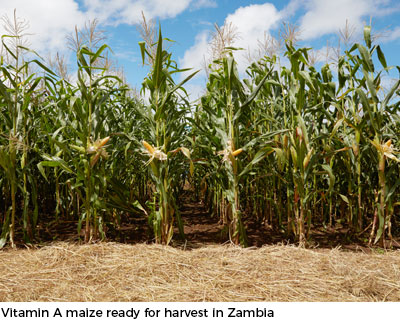 In Zambia, the harvest season is expected to commence in May. HarvestPlus coordinated with Ministry of Agriculture representatives to identify the farming area planted and farmers' expected yields of vitamin A maize. The expected yield numbers were shared with crop processors so they could prepare for the procurement process from the harvest and arrange for special transport from the farms, since public transport is also shut down.
The HarvestPlus team also connected the processors with a payments expert to help them use digital bank transfers or mobile money systems to pay the farmers for their purchased crops. Farmers are typically paid in person by cash or cheques.
Zimbabwe: The Extension Connection
The HarvestPlus country team in Zimbabwe is working closely with district-level agricultural extension officers. Regular communication via Whatsapp is enabling the quick exchange of crop and activity photos and updates from extension officers. For example, the team has been able to confirm that a vitamin A orange sweet potato trial is still up and running despite a dry weather spell, Photos confirmed that farmers had started to irrigate their fields with well water, thus allowing them to continue cultivation.
The Zimbabwe team is also remotely recording farmers' reactions on the performance and taste of recently-introduced orange sweet potato (OSP) varieties; the country team would normally hold farmer field meetings where attendees would vote for their preferred varieties. Currently, the county team is instead interviewing farmers over the phone, which takes more time but still gathers the farmers' views and allows HarvestPlus to get the right seed varieties in circulation.
The Zimbabwe country team is regularly sending messages via SMS blasts to farmers, as requested by the donors, to raise awareness about COVID-19 and provide guidance on preventative measures, and the importance of good nutrition for boosting immunity.
The country team is closely working with the Ministry of Health and Child Care (MoHCC) and the Livelihoods and Food Security Programme (LFSP) partners to develop an infomercial on nutrition and COVID-19 awareness. The infomercial will convey messages on how a strong immune system can help prevent infection and also aid recovery from the coronavirus. Broadcast on national radio stations, the infomercial will highlight the importance of a nutritious diet in boosting immune systems like consumption of Vitamin A rich fruits, vegetables and foods such as orange maize and orange sweet potato.
Bangladesh: Farming by Phone
In Bangladesh, the government has been taking steps to ensure that the food supply chain remains unhindered during the pandemic. Farmers are getting ready for the wheat harvest and to plant seeds for zinc rice. The farmers are also adopting safety measures while they toil, such as maintaining physical distance, to make sure they are protected against the coronavirus but can also continue work in the field.
Some of the communities have facilitators present in the field who are supporting farmers around the clock, such as assisting with linking farmers to value chain actors and helping identify the best farm inputs. Other farmers are being assisted remotely by these field facilitators; for example, farmers are sharing the condition of their crops via photos, and they receive guidance on necessary treatments such as using insecticides to address pest problems.
The importance of delivering nutrition from biofortified staples cannot be overstated, especially during this health crisis. Biofortified staples with higher vitamin A and zinc in particular have been shown to play a role in maintaining healthy immune systems. More than 8.5 million smallholder farming families currently grow biofortified crops in Africa, Asia, and Latin America/Caribbean, and they depend on these crops for essential micronutrients.
During this public health crisis, our thoughts are with the people whose lives have been disrupted and impacted by this pandemic. Every day, we at HarvestPlus are striving to make meaningful adjustments to our work to sustain support for the most vulnerable populations.