Lagos is a city that evokes an entrepreneurial spirit. Children run alongside vehicles trying to sell anything from groundnuts to sandals, an assortment of candy, or even rope. Bright yellow keke napeps (tricycle taxis) weave in and out of bumper-to-bumper traffic as they ferry passengers to their destinations. The streets are also lined with lively vendors—some of whom are selling vitamin A orange maize roasted on an open flame.
The vibrant color of the maize makes money for the vendors, but it also heralds a nutrition revolution. Nearly 30 percent of Nigerian children under the age of five suffer from vitamin A deficiency, a condition which, if unchecked, can rob them of sight, and eventually, of life. The vendors' vitamin A orange maize is one of several biofortified staple crops that HarvestPlus has pioneered to address widespread micronutrient malnutrition. The maize and other crops are bred to contain higher levels of key vitamins and minerals like vitamin A, iron, and zinc. HarvestPlus focuses on staple crops because they account for the bulk of people's diets in many parts of the world.
The Nutritious Food Fair in Lagos, which took place November 7–9, 2018, attracted thousands of students, farmers, and partners interested in sharing information about biofortified product innovations, lessons learned, and success stories. HarvestPlus Nigeria has orchestrated the event annually for four years as a celebration of partnership.
Paul Ilona, the HarvestPlus country manager for Nigeria, noted that having a full stomach does not necessarily mean that one is getting proper nutrition. "If what you eat does not respond to the needs of your body, [then] your eyes, your brain and your cells are still hungry," he told those attending the fair at the Landmark Center on Victoria Island.
Lack of sufficient micronutrient intake is known as "hidden hunger" and there are multiple reasons to address it. The 2018 Goalkeepers report by the Bill & Melinda Gates Foundation indicates that by 2050, 40 percent of the world's poorest inhabitants will live in just two fast-growing countries: Nigeria and the Democratic Republic of Congo. Biofortification offers a solution for the child mortality and malnutrition accompanying poverty—and an opportunity for young "agropreneurs" to use their skills for good. Proper micronutrient intake also will be essential for countries that seek to take advantage of a potential demographic dividend as their large youth populations transition into adulthood. They will need well-developed brains and bodies to live healthy and productive lives and contribute to their countries' growth.
"Malnutrition shouldn't be something we are talking about in a country [like Nigeria] with so much food," says Dr. Chris Osa Isokpunwu, Director of the Nutrition Department at the Nigerian Ministry of Health. "Food may address hunger but not malnutrition."
Booths at the food fair promoted vitamin A cassava and maize products like fufu (a fermented cassava mash) and pap (maize porridge), as well as fortified foods and careers in agriculture. Skits and dances celebrated vitamin A yellow cassava. Panels discussed seed systems, private sector commitments, and scaling up. Holistic trainings detailed agronomic practices like multiplying the cassava stems close to the farm, so they remain fresh, and shredding cassava leaves for animal feed, as well as processing and packaging methods.
The fair also showcased HarvestPlus Nigeria's deep connections and marketing approaches—with a live DJ, and appearances by musicians, parliamentarians, priests, and Nollywood stars. To solidify its cultural influence, the Minister of Finance launched a new initiative called "Smart Mother"—the name carefully chosen to insinuate that growing and consuming vitamin A maize or cassava is the smart thing to do.
Weeks before the fair, the excitement kicked off with a televised game show called NutriQuiz, written by the Ministry of Health and the University of Ibadan, and hosted by Nollywood star Segun Arinze, a longtime supporter of the work done by HarvestPlus Nigeria. Schools across Nigeria faced off to earn bragging rights and prize money for their school.
A session of the show took place live at the Fair. Questions on the game show focused on agriculture and nutrition, asking adolescent participants anything from the function of a scraper on a disc plow, or which vitamin regulates the absorption of calcium, to what the common unit of food measurement is called. Participants chosen for their academic prowess shyly told me that they want to become doctors and lawyers—but behind the podium with buzzers in hand, they acted boldly, answering questions without hesitation—sometimes before I had even had a chance to fully read the answer choices on the projected screen.
"I want to inspire young students to go into agriculture," said Arinze. The winning school—Babington Macaulay Junior Seminary—expects the 500,000 ₦ (US $1,372) prize to support the school's farming and animal husbandry programs.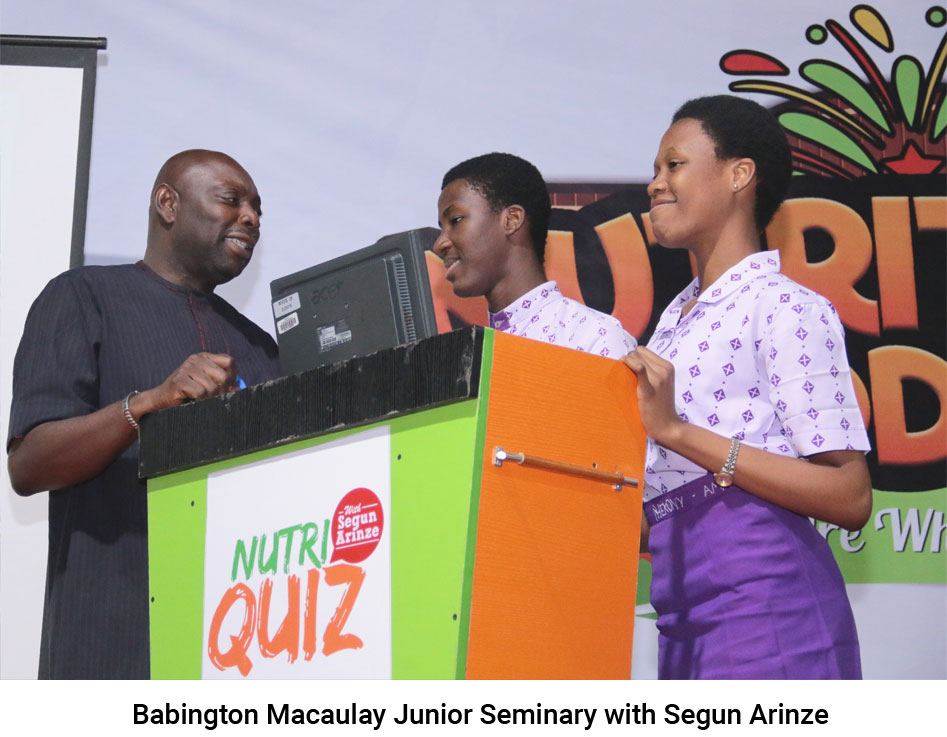 The partners in attendance at the fair show endless enthusiasm, pressing their bags of vitamin A yellow gari (roasted cassava grain) into my hands with pride. "I know that with time, malnutrition will be a thing of the past. You are the reason we are giving life," said one farmer representative.