HarvestPlus Uganda has been collaborating with the BioInnovate Africa project and the Ministry of Agriculture, Animal Industry & Fisheries (MAAIF) to develop an information and communication technology (ICT) platform for certifying vitamin A orange sweet potato vines.
The ICT platform, which is accessible via a mobile application and a website, allows farmers to quickly locate sources of certified vines, thereby helping to strengthen the vitamin A orange sweet potato (OSP) seed system. The use of poor-quality OSP planting material significantly reduces yield, affecting the availability of roots on the market.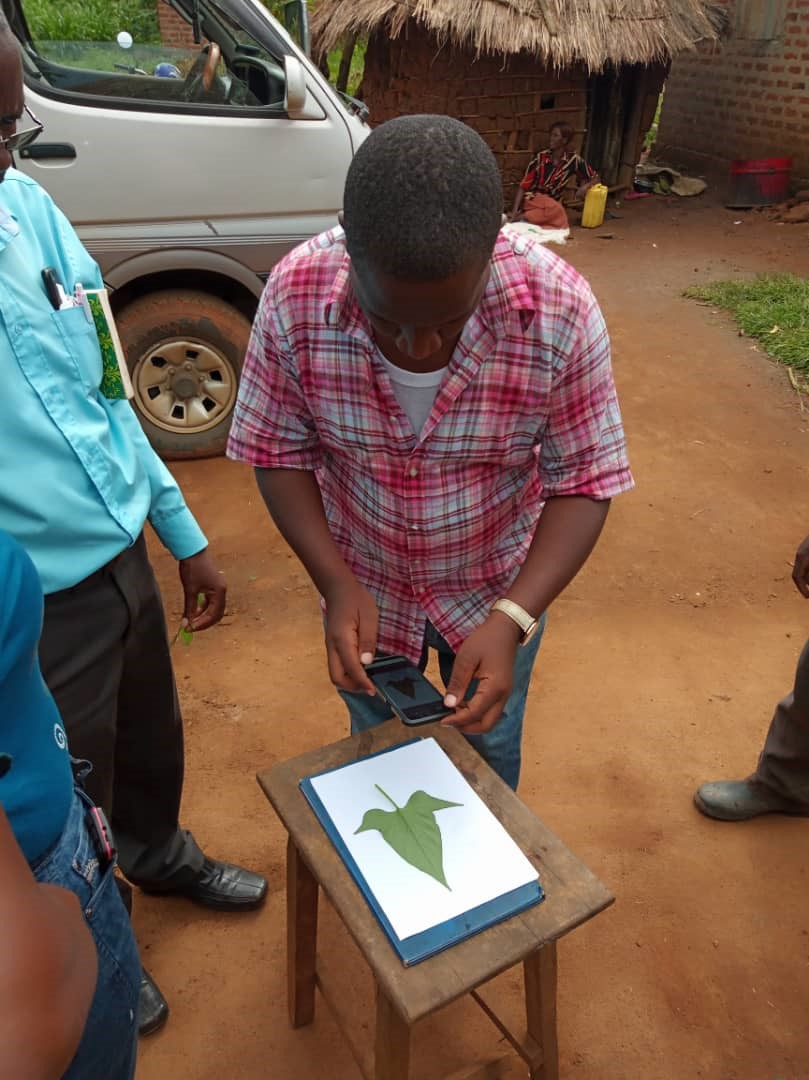 The platform is an example of ways that HarvestPlus and its partners are leveraging technologies to benefit farmers. Charles Musoke, a seed system specialist with HarvestPlus in Uganda, said the platform will "quicken and strengthen the verification and certification of OSP planting materials."
Vine multipliers, together with tissue culture labs, apply for inspection from the MAAIF seed inspection and certification department. MAAIF-authorized district agriculture officers conduct inspections and their reports are sent to the Commissioner for approval. Certification lasts a season or six months and all fields approved for quality are viewable on the website.
The app also allows farmers to transmit queries about OSP viruses, pests, and other diseases to government inspectors. The mapping tool will also be used to track query locations to help monitor the prevalence of crop risks as they develop.
The role of HarvestPlus
HarvestPlus provided technical support to vine multipliers on certification readiness by helping them fulfill minimum inspection requirements (such as shade nets for secondary OSP vine growers) and linking them to private laboratories to access basic seed. HarvestPlus also the development of OSP inspection protocols and training of inspectors to meet minimum accreditation standards for inspecting OSP vines/seed.
Together with ICT experts at Makerere University in Uganda, HarvestPlus also pre-tested the ICT tools during the development phase in areas where HarvestPlus is active. The platform has been piloted in 12 districts, with plans to scale out to other areas. App coverage will also be accessible to farmers in Kenya, Rwanda, and Tanzania.
Summary of Benefits of the ICT Platform
Enhance the tracking, inspection, certification process, and movement of planting material from one stage to another in the value chain.
Capture requests and queries and provide feedback to the public.
Support geographical mapping of gardens in real time.
Integrate databases, including farmer profiles, vine and root availability based on variety, and reports trends, which will save time on information gathering and analyzing.
Facilitate low-cost pest and disease surveillance.
Facilitate customer order and sales, thereby linking customers to producers.
For more information about the platform, contact: Sylvia Magezi, Uganda Country Manager, HarvestPlus