HarvestPlus began its partnership with Shais Foods in 2016, helping the company introduce its signature vitamin A maize Full Pack Cereal Blend at national exhibitions, including a trade fair in Ndola, and an Agriculture Agritek exhibition in Chisamba and the Agriculture and commercial Show in Lusaka.
The product was a hit with consumers, prompting Shais Foods to start directly engaging farmers through contract farming to grow vitamin A maize in order to meet market demand for the product.
In 2019, the CEO of Shais Foods, Mirriam Chipulu, expanded her business to recruit more farmers: she trained 600 farmers in Kaputa district in Northern Zambia, then provided starter packs of 10 kilograms of vitamin A orange maize seed to 100 farmers who showed interest in growing it, along with millet and soybeans seeds to increase the supply of raw materials for her production.
In 2020, Shais foods further developed its partnership schemes in rural Zambia by engaging smallholder farmers to provide 70 percent of the company's raw materials needs. This enabled the rural farmers to have easy access to markets for crops that can yield higher for household and financial returns than traditional crops.
Said Chipulu: "The main objective is to improve food and nutrition security at the household level and create a sustainable source of income for smallholder farmers, especially women and youth. I am proud to say that 92 percent of Shais Foods' workers are women."
Target is 5,000 smallholder suppliers
Shais continues to work with smallholder farmers to meet their target of 5,000 regular suppliers of vitamin A maize. Shais also secured 1,500 hectares of farming land in Muchinga province to increase its own production of vitamin A maize, as well as cassava, sorghum, millet and iron beans.
Due to financial limitations during 2020/21 season—high input costs and crop management, and the impact on sales from the COVID-19 pandemic—Shais focused on Mumbwa district for production of its raw materials by the 600 smallholder farmers. Shais is also constructing four aggregation centers with proper and safe storage facilities.
Shais Foods is also poised to expand its processing activities, thanks to financing from Prospero Zambia. Shais is working on introducing new packing materials and putting the equipment to good use.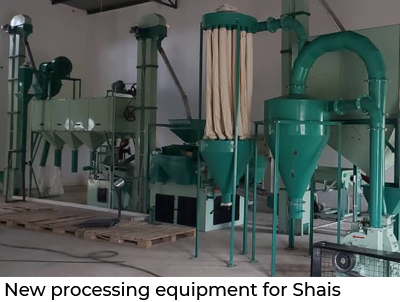 The processing mill is able to process all of the grains they procure (maize, rice, cassava, millet, sorghum) as well as legumes (beans, cowpea, soya bean) into fine flour for confectionary uses. In addition to the vitamin A maize Full Pack Cereal Blend, the company alsl produces and sells Breakfast and Roller Meal flour and Samp (maize, rice). Shais has added refined biofortified flour for confectionary use and grits for porridge or/and supply to other processors who produce other types of products.
Shais has also expanded their product range to include biofortified iron and zinc Mbereshi beans. Shais supplies products to the Melisa chain supermarkets, Food Lovers International chain supermarkets, Jama Enterprise (wholesale), Cloud Minimart, Vuma Supermarket in Lusaka, Fish Horizon outlets, JB Supermarket, and Robertson Supermarket. It supplies in Lusaka and the copperbelt through courier services since COVID-19 outbreak in Zambia in 2020. Shais is also in advanced stages of signing supply contracts with one of the bigger supermarkets with wider geographical representation in Zambia.
As Chipulu reflected on the growth trajectory of her business, she recognized the fast pace her company is growing in providing highly nutritious products in Zambia, with thanks in large part to technical assistance and welcome exposure on various exhibition platforms provided by HarvestPlus. Continuing with this assistance, HarvestPlus is going to support Shais Foods in approaching financing organizations for a short-term loan to assist them with aggregation and purchasing raw materials.
Given that vitamin A crop products tend to be sensitive and volatile to heat, she said Shais has had to change to appropriate packaging, but the high cost is prohibitive. In addition, due to the higher cost of procurement during the offseason, the company can truly benefit from a short term loan to ease the burden of losses incurred during the pandemic.
Vitamin A deficiency affects 54 percent of Zambian children under the age of five, putting them at higher risk for disease and even death. Biofortified vitamin A orange maize provides up to 50 percent of daily vitamin A needs when eaten regularly. It also provides strong agronomic benefits for farmers because it is high yielding, disease and virus-resistant, and drought-tolerant.
The Zambian government recognized early on the importance of biofortified crops, and supported crop development by improving and testing biofortified varieties more than a decade ago. Today, because of the high demand for vitamin A maize seed and grain among smallholder farmers, the Zambian government integrated biofortification into the National Food and Nutrition Strategic Plan (2018-2023) and the Farmer Input Support Program (FISP) from 2015.
In addition to improving the supply and delivery of agricultural inputs to smallholder farmers through sustainable private sector participation at affordable cost, the FISP is also ensuring timely access to inputs (including biofortified seed) by smallholder farmers and promoting agricultural diversification.
The National Plan identifies increased production and use of biofortified foods as a key strategy to reduce micronutrient deficiencies among women of reproductive age (pregnant and lactating mothers) and children under age two. Chipulu states that there is a need to increase consumer awareness about the benefits of biofortified crops.
HarvestPlus' work in Zambia is funded by the Foreign, Commonwealth & Development Office (FCDO), the Bill & Melinda Gates Foundation (BMGF), the John D. and Catherine T. MacArthur Foundation, and the newly launched "An Integrated Food Systems Approach to Build Nutrition Security" project funded by the Government of Canada.