Biofortified, orange sweet potato  (OSP) is an extremely rich source of provitamin A that has been proven to improve the vitamin A status of children, and to reduce the likelihood and duration of diarrhea.  Children with vitamin A deficiency are at increased risk of severe morbidity from common childhood infections such as diarrheal diseases and measles. In cases of extreme deficiency, they can become blind. Sweet potatoes that are high in provitamin A can provide up to 100% of daily Vitamin A needs and contribute to a reduction in vitamin A deficiency in regions where daily sweet potato consumption is high. More than 95% of the world's sweet potato crop is grown in developing countries. African farmers produce about 7 million tons of sweet potatoes annually.
Nutritional Benefit
Provides up to 100 percent of daily Vitamin A needs for women of reproductive age and children when eaten regularly
Varieties Released to Date
Africa: 95
Countries: Angola, Burkina Faso, Burundi, Côte d'Ivoire, Ethiopia, Ghana, Kenya, Madagascar, Malawi,
Mozambique Rwanda, South Africa, Tanzania, Timor-Leste, Uganda, and Zambia.
LatAm/Caribbean: 15
Countries: Brazil, Colombia, Guatemala, Peru, Nicaragua and Panama
Asia: 18
Countries: Bangladesh, China, India, Indonesia, South Korea
Total Households Growing (2021)
1.3 million
CGIAR Breeding Partners: The International Potato Center (CIP)
HarvestPlus works in partnership with the International Potato Center (CIP) to support National Agricultural Research institutes and other interested partners to breed, test, and release varieties of vitamin A OSP in countries where sweet potato is a staple food. Traditionally bred Orange Sweet Potatoes containing PVA carotenoids (or antioxidants that convert to Vitamin A) were the first biofortified crop developed and released by CIP, HarvestPlus and its partners.
We are currently supporting partners in Uganda, Brazil, Colombia, Guatemala, Haiti, Honduras, Nicaragua and Panama. 
---
Featured Project
Vitamin A Orange Sweet Potato in Uganda
The MENU Project under USAID: The development and dissemination of biofortified crops such as orange sweet potato and iron beans were supported by the United States Agency for International Development (USAID) under the United States Feed the Future Initiative, through two successive projects: the current USAID Meals for Nutrition Biofortified Solutions in Uganda (MENU) and the previous USAID Developing and Delivering Biofortified Crops (DDBC) project. Six vitamin A OSP varieties were developed in partnership with the International Potato Center (CIP) and Uganda's National Agricultural Research Organization (NARO) and released in Uganda.
Nutrition Information and Evidence
Baseline Vitamin A concentration in non-biofortified varieties: 0 parts per million (PPM)
100% target concentration of Vitamin A in Vitamin A-biofortified sweet potato varieties: 70 ppm
Bioavailability of vitamin A in Vitamin A-biofortified sweet potato varieties: 8%
Key Nutrition Evidence:
Biofortified OSP contains a nutritionally significant concentration of vitamin A, and relatively small amounts of the nutrient are lost during storage and cooking, except when stored as flour.
There is enough vitamin A in OSP after different processing methods to have a positive effect on nutritional status.
Eating biofortified OSP improves vitamin A status and can prevent vitamin A deficiency in children. Eating vitamin A OSP reduces the likelihood of vitamin A deficiency in women and children over the longer term.
Children under 5 years old who regularly ate OSP fell ill with diarrhea less often and each diarrhea episode was of shorter duration.
Agricultural interventions like biofortified OSP are a cost-effective way to improve child health
---
Vitamin A Orange Sweet Potato in Food Value Chains
HarvestPlus partners with processors and consumer food businesses, primarily SMEs, to develop and market products made with biofortified ingredients.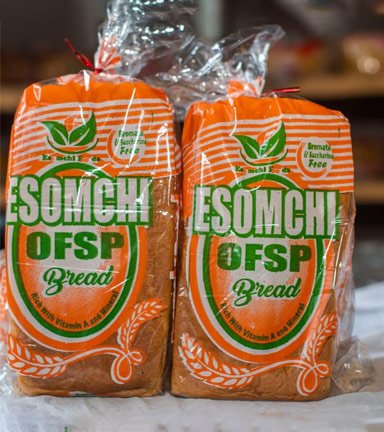 Bread
Baby food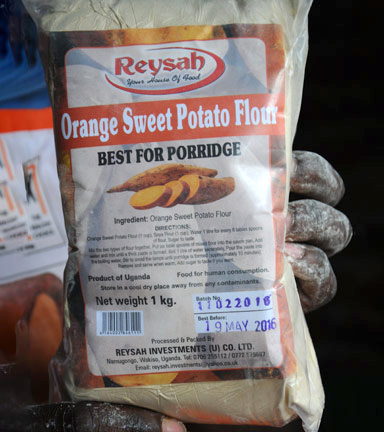 Porridge
Contact Our Crop Experts
They are available to provide more information about vitamin A orange sweet potato regarding nutritional and agronomic characteristics, growing and harvesting, processing techniques, marketing strategies, connecting with seed and/or crop suppliers and buyers.
Contact our Experts