Agnolo Tractor Group, based in Mutasa district of Zimbabwe's Manicaland province, was established in 2016 by 14 smallholder farmers—nine men and five women. This group of farmers has always been determined to succeed despite great economic challenges, especially during the COVID-19 pandemic.
The group operates a tractor, which they acquired through the Market Development component of the Zimbabwe Livelihoods and Food security Programme (LFSP). The United Kingdom government through the Foreign, Commonwealth & Development Office (FCDO), funds the program. The Food and Agriculture Organisation of the United Nations (FAO) and Palladium manage LFSP, whilst HarvestPlus is the programme technical partner on biofortification.
The group rents out the tractor to other farmers in their community and others from surrounding farms. During the farming seasons, the group earns more than USD 1,400 profit after all expenses are adjusted. However, fuel costs are their major challenge; hence, they decided to venture into other enterprises and diversify their income stream.
"In previous years our business was going on well. However, when fuel prices started to increase our business was seriously affected. Our charge for the service we were rendering to the farmers was far below the expenses we were incurring to get the tractor to work. Therefore we decided to venture into other businesses", said John Duri, the group's chairperson.
HarvestPlus, through LFSP, introduced Agnolo Tractor Group to iron bean contract farming in 2017.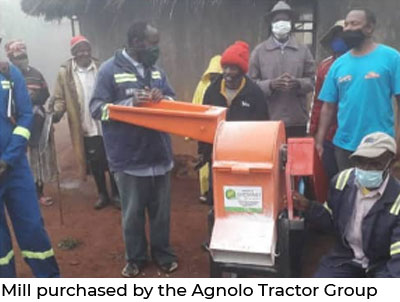 The 2020 farming season is the third season Agnolo Tractor Group farmers have grown certified biofortified iron beans on contract for Tocek, a private company operating in Harare. The group received foundation bean seed for seed multiplication. The farmers signed a contract with Tocek that stipulated the price (USD 1.50 per kg) and payment schedule as well as the required standards for the iron bean seed including size, color, and grade.
So far the group has harvested 4,000 kg from their 2-hectare plot and have sent 3,900 kg to Tocek after grading. The group managed to earn USD 5,850, and after seed loan and other inputs expense deductions, they finally got a net income of USD 5,100.
LFSP is helping farmers transform their farming into commercially viable, market driven businesses. The program provides on-site technical assistance and offers training in basic business skills.
"We are no longer ordinary farmers. We are very thankful to LFSP and to HarvestPlus for teaching us about contract farming as well as introducing us to the nutritious beans. One major thing which makes us happy as farmers is that we know where we are selling our produce after harvest," said Tambudzai Chirinda, group member.
The group has combined part of the proceeds from the tractor business and from seed production and bought a hammer mill for USD 4,000. This purchase was done after realizing the need for milling services in their community. As payment for iron bean seed, Tocek then paid for the hammer mill directly to the supplier on behalf of the group and then delivered the hammer mill to Agnolo Tractor Group in August 2020. This recent acquisition will help to save the community from travelling long distances to have their maize milled.
"We are improving our standards of living by strengthening our livelihood strategies. This group has changed our lives. We also hope that more people will benefit from the facility so that their lives are transformed as well," said Duri.
Duri and the other group members can now pay their children's school fees, buy food, and cater for other household expenses. The group is optimistic about their future relationship with Tocek and plans to use their additional income to expand and improve their farm production.
HarvestPlus Zimbabwe works with more than 30 partners in government, business, and civil society to improve nutrition and public health by promoting varieties of vitamin A-rich maize and orange sweet potato, and iron-rich beans. More than 249,000 households are growing iron beans and around 64,000 households grow and consume vitamin A maize in Zimbabwe.